This weekend I got a really nice crock pot for just .50 from a garage sale. The only thing wrong with it was that the handle for the lid had broken off. This is pretty easy to fix, so I figured I'd do a little tutorial and show you one way to replace a missing or broken handle. This would work on most types of lids. Since I used polymer clay you wouldn't want to use this method for anything that goes into the oven or reaches temperatures above 275 degrees.
In preparation for my move I emptied out my old craft dresser, since I won't be taking it with me. It has lots of nice wooden drawer handles that would make a good replacement for the lid handle.
I just removed one of the handles and covered it in Tacky glue. This helps the clay stick to the wood better and reduces the chance of air bubbles under the clay. Since the screw was a little long I added a cardboard collar. I used superglue to attach it to the drawer handle, then covered it in Tacky glue as well.
Then I covered the entire thing in a layer of white clay. Once the clay was nice and smooth I used my clay extruder to make a long thin rope so I could add some swirls to the handle.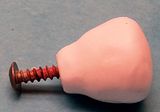 I added a flat disk of clay to the bottom along with some small dots, then baked the handle for an hour. Once it was cool I applied three coats of high gloss glaze and attached the handle to the glass lid. I figure it will have to stand up to a lot of handling, so the glaze should help protect it, and make it easy to clean.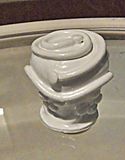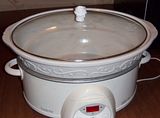 I cooked some chicken in the crock pot today and the handle stayed nice
and cool and is very secure (better than many I have bought from the store!).
So there's a fairly easy way to replace missing or broken lid handles. You
can make them in colors and designs to match the pot, and if you don't
want to play with clay, you could just simply paint and seal a well fitting
drawer handle. Not bad for a .50 cent garage sale find, huh? And this one
is WAY nicer than my old crock pot- it's bigger and you can set the time and
temperature, as well as switch from high to low at any point during cooking.